MEDITERRANEAN HEALTHY FOOD
CHICKEN KING EXPRESS MEDITERRANEAN FOOD AT UNBEATABLE PRICES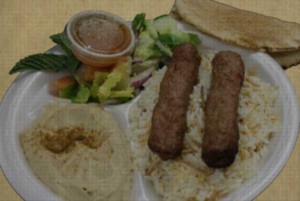 Welcome to Chicken King Express
Welcome to Chicken King Express, known for some of the finest authentic Mediterranean food in Los Angeles. Chicken King Express is dedicated to providing the healthiest Mediterranean food in the world to the people in and around Los Angeles.
Each meal is prepared with a great deal of love, starting early in the morning we prepare everything from scratch. No pre-processed vegetables or meats are ever used in our kitchen.
We believe in our product! We are sure you will find that our restaurant is an extension of our home. From our family to yours, we are dedicated to serving your family only that which is good enough for our own!
NO RESERVATIONS
WE'RE NOT TRYING TO BE COOL BUT SADLY THERE ARE ONLY 20 SEATS IN OUR STORE AND WE JUST CAN'T THINK OF A BETTER AND FAIRER SYSTEM THAN FIRST COME, FIRST SERVED.
FOOD SPECIAL
CHICKEN KING ANNOUNCES THE WORLD FAMOUS EMPANADAS AT ONLY $2.25 PER PIECE OR $6.25 FOR 3 PIECES
EXCLUSIVE PROMOTION
Coming soon